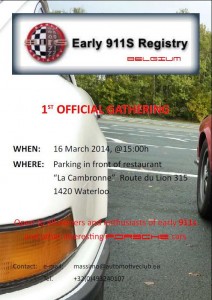 Title: 1st Belgian gathering of Early 911S Registry
Location: Butte du Lion, Waterloo
Description: Dear friends,
I'm glad to announce you that the Early911S registry will organize its first get together in Belgium.
Day: 16 March 2014
Time: 15.00h
Place: the parking space of the restaurant "La Cambronne", right in front of the Waterloo battlefield of the Napoleonic wars.
In case of unavailability of the parking lot of the "Cambronne" due to the ongoing works, the meeting point is in front of the "Wellington" on the other side of the road.
Please see the attached leaflet.
If you're a lucky owner of one early 911 or just an enthusiast, please do not hesitate and join us!
Thanks for your attention
Massimo Bernacconi
Tel. +32493240107
Start Time: 15:00
Date: 2014-03-16